The Best Professional
Competition of professional skills for the title Uzdіk maman among the working professions of Kazgermunai JV LLP
Competition goals
the identification, dissemination and implementation in practice of advanced methods and techniques of work;
increasing the level of professional and theoretical training of workers;
development of creative activity of workers and a positive impact on the growth of labor productivity;
Improving the efficiency and effectiveness of the production process;
Raising the level of professional skill, prestige and importance of the working profession in the oil and gas industry;
Achieving a high level of partnership Indicators.
Competition objectives
Motivation and involvement of the production staff in active work on dissemination and consolidation of best practices;
the motivation of the workforce to achieve the best results not only in terms of production and labor indicators, but also in terms of safety, environmental protection and labor protection;
Identification of professional knowledge, skills, high qualification of workers in determining the best by profession;
study, dissemination and introduction of experience of the best by profession through the system of training and professional development of personnel in Production.
The contest of professional skills for the title of "Uzdik maman" is held in the following nominations:
1. "The best oil production operator"
2. "The best operator for well research"
3. "The best operator for preparation (product operator)"
4. "The best operator for reservoir pressure maintenance"
5. "The best mechanic for repair of oilfield equipment"
6. "The best driver of compressor installation"
7. "The best gas and electric welder"
8. "The best turner"
9. "The best Locksmith of instrumentation and control equipment"
10. "The best electrician"
11. "The best Laboratory of Chemical analysis"
All interested employees of the Partnership who were not brought to disciplinary and financial responsibility for violation of labor and / or production discipline, safety and labor requirements for the year can take part in the Competition. The selection of workers for participation in the first stage of the Competition is made by their immediate supervisor, where the results of their work for the current year are taken into account. The winners of the first stage are participating in the future at a regional competition among the work collectives of the group of companies KazMunayGas NC JSC.
Winners of the competition "Uzdik maman-2013"
Abnazarov Nurbol





The Best Oil and Gas Production Operator

Ualiyeva Karlygash





The Best Chemical Analysis Laboratorian

Serekov Aidos



The Best Well Survey Operator

Metikov Pavel



The Best Fitter on Test Equipment and Automatics

Ibragimov Zhandos



The Best Oil Preparation Operator (commercial operator)

Pogorelov Vyacheslav

The Best Mechanic on Repair of the Oil Field Equipment

Kozhamshukurov Ongar



The Best Lathe Hand

Kulbayev Yerman





The Best Electrician

Devlikamov Nail



The Best Reservoir Pressure Maintenance Operator

Aubakirov Temirkhan



The Best Gas Electric Welder
Winners of the competition "Uzdik maman-2014"

Winners of the competition "Uzdik maman-2015"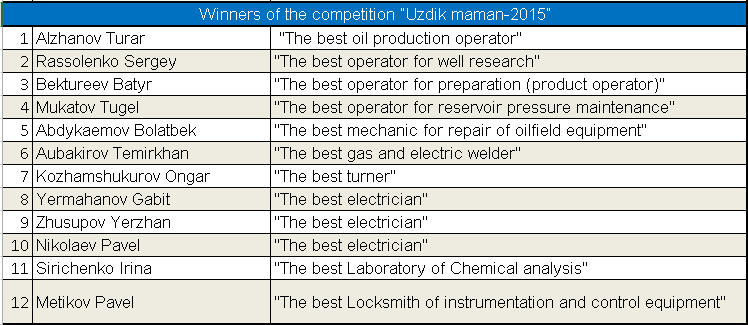 Winners of the competition "Uzdik maman-2016"

Winners of the competition "Uzdik maman-2017"

Winners of the competition "Uzdik maman-2018"

Winners of the competition "Uzdik maman-2019"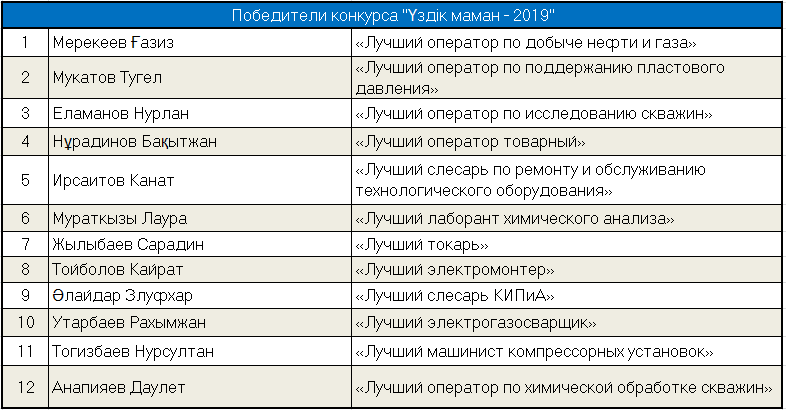 Winners of the competition "Uzdik maman-2023"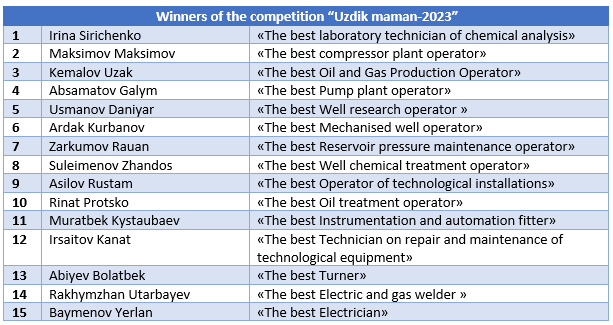 Blog of the Board