Management of JV Kazgermunai LLP provided the staff with a report for the first half of the year
05 august 2022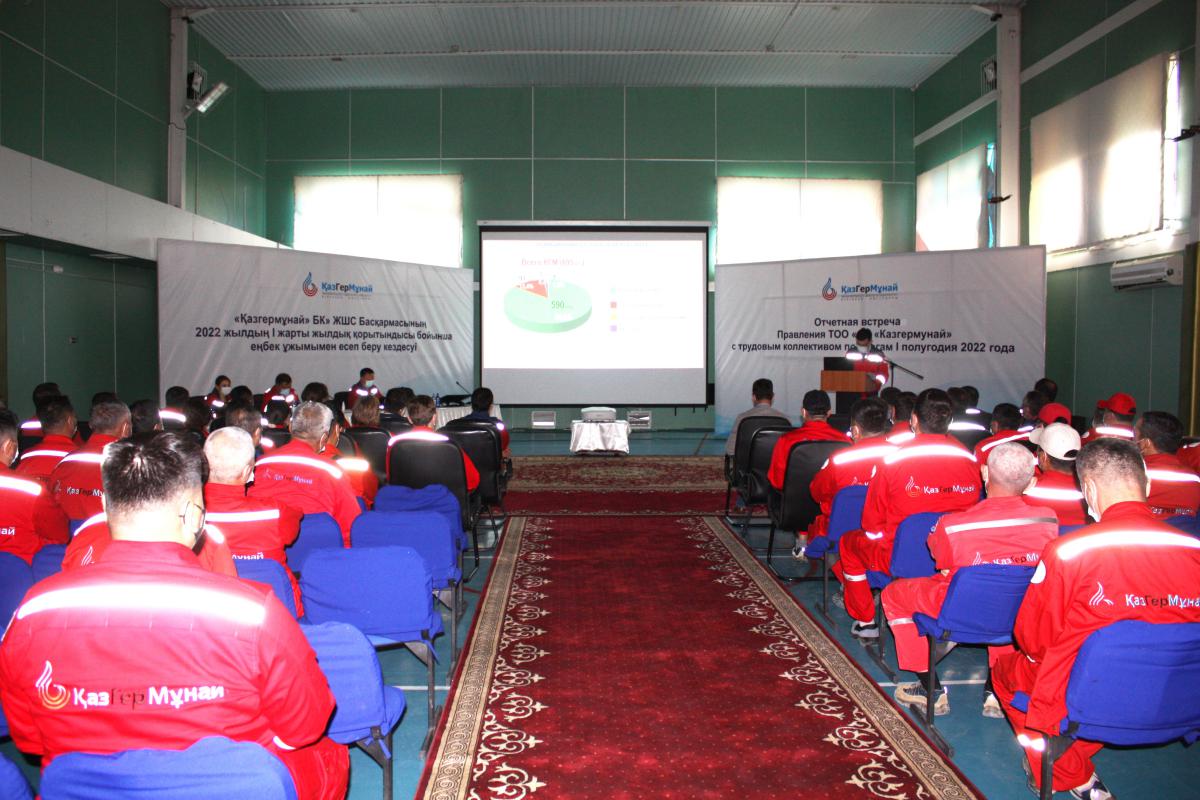 In the sports hall of the Akshabulak field, a reporting meeting of the Management Board of JV Kazgermunai LLP with the company's workforce was held following the results of the first half of 2022. The meeting was attended not only by oil field workers, but also via videoconference, by employees of the company's head office, heads of representative offices of the partnership in the cities of Almaty and Nur-Sultan, senior officials of JSC NC KazMunayGas and JSC PetroKazakhstan Kumkol Resources. First Deputy General Director Nurzhan Abdirakhmanov delivered a report on the results of the company's activities in the main areas: production and geological blocks, financial and economic block, labor and environmental protection, human resource management, and social block.
The leader began his speech with an analysis of accidents, industrial injuries and occupational diseases. For 3.5 years, the company has maintained a zero injury rate. Compared to the first half of 2021, the number of medical evacuations was slightly reduced, the number of cases of cardiovascular diseases among workers decreased by more than 20%, and there were 11% fewer colds and respiratory diseases. This is also due to the high level of vaccination and revaccination of personnel. 85% of Kazgermunai residents have been revaccinated, 14% have completed the full course of vaccination and 1% have contraindications.
The report continued with information on production indicators. The half-year plan for oil production was 100% fulfilled, but for gas production the deviation was -4.2 million m3. At the same time, LPG production was exceeded by 6.7 thousand tons, and water injection to maintain reservoir pressure by 152.2 thousand m3. The depletion of recoverable oil reserves at the moment is 84%. Drilling and commissioning of 9 production and 2 appraisal wells at the enterprise is scheduled for the second half of the year. The plan for underground well workover was overfulfilled and the plan for the overhaul period of 641 days was achieved.
N. Abdirakhmanov moved from production indicators to financial ones. The company ended six months with a 35% excess of actual net profit. This is due to the improvement in the selling price of oil for export and for the domestic market. The increase in the revenue side of the partnership, entailed an increase in the amount of income taxes to the state budget. They were paid 120% more than planned.
Following the rules of conduct of the Reporting Meeting, the First Deputy General Director announced information on the Human Resources Management Unit. It also touched upon such topics as: development and evaluation of personnel, bonus payments for two quarters of 2022, labor discipline, rewarding employees, filling vacant positions.
Information on the social block included the following sections: social payments and compensations, the amount of which increased compared to the same period in 2022, health resort treatment for employees, corporate and socially significant events, and sponsorship.
Комментарии
Blog of the Board